Kuriko Tsugawa (Bassist, Composer)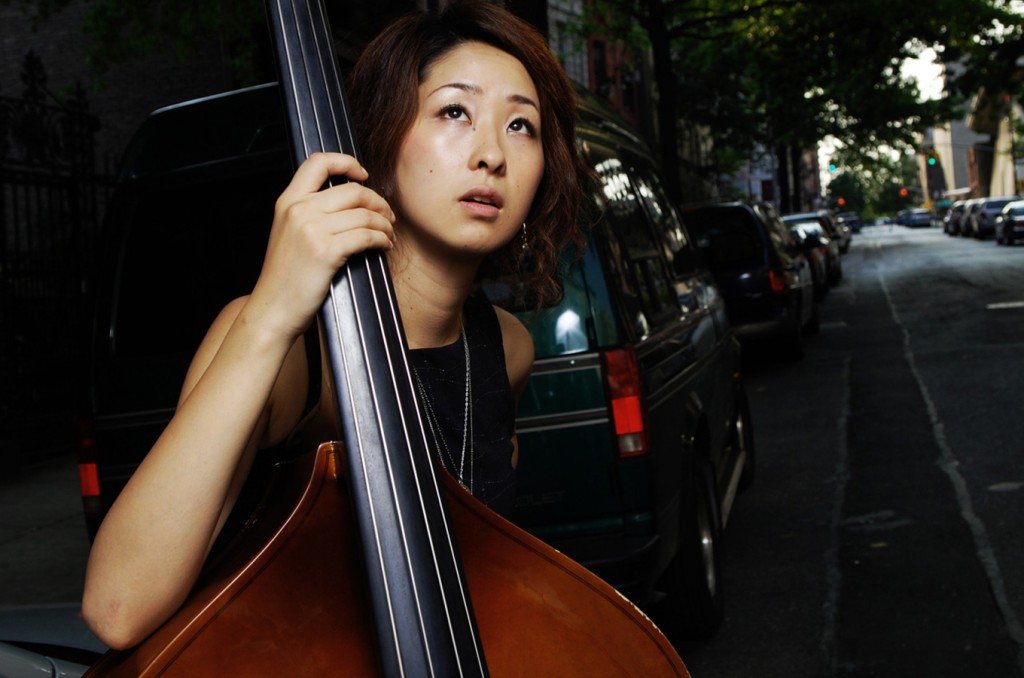 Born in Tokyo (Japan) Kuriko Tsugawa started playing bass at the age of fifteen. Soon after she joined what would become her first jazz ensemble experience, the Tomisato High School big band, affectionately known as "The Mad Hatters". As a member of "The Mad Hatters", she had the opportunity to perform at major festivals throughout Japan. For three consecutive years Kuriko's "Mad Hatters" shared bill with visiting artist Monterey High School Big Band in an annual festival held in Tomisato, Japan. This enriching annual encounters were the spark that ignited Kuriko´s passionate decision to pursue jazz music in the United States as a career.
In 2001, she auditioned for Berklee College of Music and won a scholarship to attend the college starting in 2002. She was now one step closer to her dream.
Since her arrival in Boston she had the opportunity to study with renowned jazz educators like Hal Crook, Dave Santoro and Herb Pomeroy, and she played with jazz legends like Joe Lovano, George Garzone, Delfeayo Marsalis, Randy Brecker, Yellow Jackets founder Russ Ferrante, Makoto Ozone and Danilo Perez. Besides her many inspiring mentors Kuriko found in Boston a vibrant generation of like-minded young musicians who have been as crucial for her development as any of her professors.
Her time in Boston paid off, and her quick improvements lead to a really busy performing schedule. Besides such Boston musts as Wally's Jazz Café and Ryles Jazz Club Kuriko performed in a variety of festivals around the New England area and in 2006 was selected as a member of a quartet representing Berklee in Lucca Jazz Donna Festival in Italy.
2006 was also the year that marked the end of Kuriko's Bostonian era and saw the beginning of a new one that which came with the inevitable move to New York City.  Since then she has gotten increasingly active in the fervent New York jazz scene such as Blue Note New York, Smalls, Dizzy's Club Coca-Cola, Fat Cat, Cleopatra's Needle and many more. She has performed with Anthony Wonsey, Walter Blanding, Marcus Printup, Lee Pearson, Tia Fuller, Rodney Green, Mike LeDonne, Jeb Patton, Warren Wolf and Daisuke Abe.
In 2008 Kuriko launched a new band, which he co-leads and produces, UoU, a quintet made up of members originally from Japan. UoU's debut, "Home" (Tippin' Records), was released in 2010. "This debut exudes a polished distinctiveness, clear abilities and original compositions," (AllAboutJazz.com, September 2010). "Home" also notably climbed to #1 for two consecutive weeks on the JazzWeek World national radio charts.
Kuriko followed UoU's debut with its second release in 2013, "Take the 7 Train" (Tippin'). "One of the most adventurous young bands that is auspiciously exploring jazz with its national heritage in mind is UoU," stated Dan Ouellette, DownBeat journalist.
And she keeps evolving day by day with the confidence and passion which comes from making one's dreams come true…
Website:
www.kurikotsugawa.com/